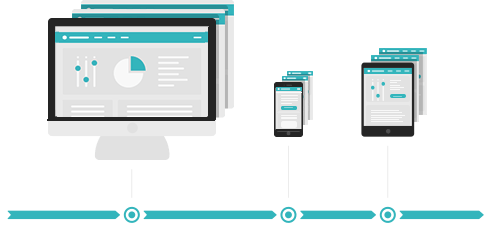 REMOTE FULL-STACK DEVELOPMENT from A to Z
Altoros unites 30+ project teams with 350+ senior and mid-level developers who successfully deliver solutions of any complexity that require outstanding knowledge of .NET, Ruby, Java, front end, mobile, blockchain, as well as the expertise in cloud-native app development, data engineering, and artificial intelligence. We offer a full development cycle from A to Z.
MOBILE APPLICATION DEVELOPMENT
Native and cross-platform mobile applications development to provide businesses with effective means to reach their customers anywhere they go. Full life-cycle management for iOS- and Android-based applications from prototyping to deployment and testing.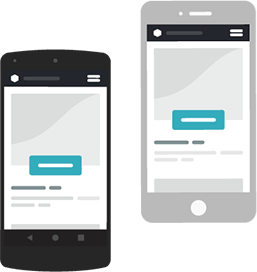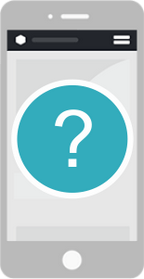 POC AND MVP DEVELOPMENT TO TEST YOUR CONCEPT
We help companies to validate whether the chosen solution serves their core business needs. To get early feedback from end users and prove feasibility, we offer a quick proof of concept (PoC) and a minimum viable product (MVP) creation. Let's grow your idea into a successful and stable product!
WEB APPLICATION DEVELOPMENT
We build accessible, responsive, and secure web applications with scalable features. Software engineers at Altoros know their way around back-end languages (Java, .NET, and Ruby), front-end languages (Javascript, CSS, and HTML), and database management systems (Microsoft SQL, MySQL, etc.).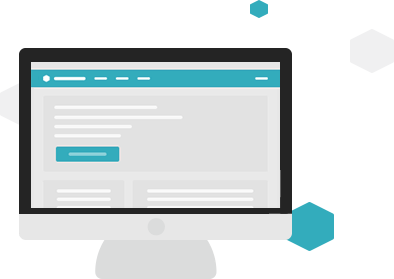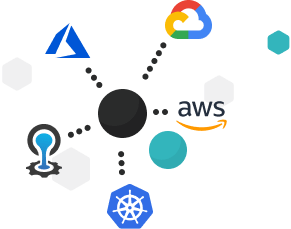 Сloud enablement and cloud-native development
Altoros provides a team of certified cloud architects, administrators, and DevOps engineers to implement, automate, and manage private and hybrid clouds and make your IT infrastructure more flexible and scalable.
Remote dedicated team as a service
Altoros offers you to extend your in-house talent with our remote dedicated team of engineering professionals, architects, and project managers with proven experience in creating architecture, as well as building complete solutions, deploying to production, and performing operations management.
92% of our employees are senior- or mid-level engineers with degrees in computer science or math. Our core strength lies in the ability to enhance your current teams with our talent or build elite teams from the ground up.
ZERO-RISK TRIAL PERIOD
Pay only if you are satisfied with our work
?
What does a zero-risk trial period mean?
We put customer satisfaction as a major priority. A key differentiator between us and other software engineering companies is that we guarantee efficient custom software development. In case you are not satisfied with the results achieved, we will not charge you for the work done by our software developers in the course of the first two weeks of the project. From there, we can either part ways, or we can provide you with another expert who may be a better fit and with whom we will begin a second, no-risk trial.
One-person team
A profound expert focused on a required field, complementing your existing team.
Dedicated team
A custom team comprising 2–10 professionals to assist in the development process or support an ongoing project.
Dedicated team + leader
A dedicated team managed by a team leader to take full responsibility for your project—from a prototype to an MVP.
Start onboarding
WHY PARTNER WITH US
Reduced operational costs
Cost-reduction for team maintenance. Smart scaling approach
Time-consuming recruitment
Simpler onboarding process
Quick onboarding (up to 72 hours)
Low-quality code and documentation
Quality code & clear documentation
Possibility of staff dismissal
Core team retention guarantee
Access to the skills and expertise of 350+ engineers
Cross-cultural team. Fluent English (B2+). Time zone aligned
Related cases
The team at Altoros has successfully implemented 1400+ projects, some of which can be accessed through this page. We do also share more details on a particular project and other stories of success on demand. Please do not hesitate to reach out to us with a request!
Why Our customers trust us

Our clients speak
Our aim is to reach customer satisfaction. Explore some of our clients' testimonials to learn the results of our productive collaboration.

I have never worked with a more efficient, corporative, and skilled programming team.
I have never worked with a more efficient, corporative, and skilled programming team as Altoros. They consistently met every target set for them, usually ahead of their own estimates. In addition to providing very skilled labor, they consistently sought to offer their skilled knowledge in project management, software development processes, and system test. I would definitely recommend them to anyone requiring enterprise database application design and development.

Altoros helped us double our customer base and roll out several new product lines.
We had experience with Altoros on a previous project, and when it came to resourcing at Revere we looked to Altoros for the experience and flexibility we needed. In collaboration with our in-house team, our Altoros contractors swiftly identified and articulated critical paths against our roadmap. Altoros contractors were able to dive in from day one and meaningfully contribute to our engineering organization.

Alex Scott, Co-founder at Revere
Altoros eliminated 95% of service breakdowns.
The remit of the Altoros ops folks is to locate and stabilize a malfunctioning service and report it to the engineering team. If they can't stabilize it they have permission to wake us up, but that's only happened once.

Laurie Voss, Co-Founder and COO, npm
Communication and issue escalation are both prompt.
Altoros has taken full responsibility and effectively utilized project management methodologies since day one. Communication and issue escalation are both prompt, while a proactive approach and near-constant availability continue to impress. Their team even works overtime to ensure timely delivery.
We received a software system of a high production.
Working with Altoros we were able to build a software system of a high production with an optimized delivery, which is able to take orders, and predict inventory with more efficiency and speed. We were able to integrate data from their off-the-shelf solutions and additionally build tools that were not previously available. I would say that together Altoros and I were able to achieve a happy client, a more efficient product delivery system, and a scalable platform for the future.
Altoros is a great choice specifically for software development projects!
For software development projects, specifically, web development and even some non-standard projects, I think Altoros is a great choice. Their ability to quickly provide high-quality resources, multiple geographies, and flexibility has been a huge asset for us. For example, I do not think I would be able to ask any other software vendors to draft a resource in France for three months. I asked Altoros about Altoros and there were no hesitations. I completely recommend Altoros.
The code quality, as well as, communication are top notch.
I would definitely recommend Altoros for software development projects. It has been a pleasure working with them. We had issues where we had problems over the weekend and if something happens on Saturday and these guys come in and take care of it. There is a huge commitment from the team. The code quality is top notch and communication is top notch. Absolutely would recommend hiring Altoros for software needs.
We got immediate and acute development help from Altoros.
We needed immediate and acute development help, and we needed people who knew how to lite JavaScript front-end code and modify our existing product. We got the software done with Altoros lots sooner than we would have done with all our internal resources and we got the additions and modifications to our product that we wanted in time basically.
Great job! We highly recommend Altoros.
We highly recommend Altoros to rapidly build complex applications using cutting edge technologies. Again, great job!

Christopher Adorna, User experience consultant at Sony (LA)
I would absolutely recommend Altoros for anyone looking for great engineers.
It's a very laid- back, but very professional company at the same time. Being able to work with people that understand technology, but also understand what it means to run a company is great. I would absolutely recommend Altoros!
I'm happy with the partnership between Trace Data and Altoros!
By partnering with Altoros, I hired engineers much faster than I could hire in the Bay Area. As my engineering team is growing, I can continue to rely on Altoros to bring new engineers quickly. Altoros charges a reasonable price, definitely lower than the Bay Area. This helps me to achieve my goal within budget. Based on past year's experience, I'm happy with the partnership between Tracedata and Altoros, and would recommend Altoros, for sure.
I have been very satisfied with the Altoros as a company and the people they have placed with us have helped us a lot.
There are two things I like about Altoros. First is the quality of the candidates they have been able to source for us. The developers have been very good and all came up to speed very quickly on our code and were able to contribute without a long "ramp up" period. The candidates have also been good at sharing knowledge and making our other developers better. The second thing about Altoros that I like is that their account managers are very good. We have a good relationship with our contacts at Altoros and they are very easy to work with. The communication is great and I never feel like anything "falls through the cracks." Our account manager is very responsive and detail oriented. He makes life easier because I am confident everything is being done correctly on his end.
The Altoros team members have always been extremely competent and careful.
There is a lot of heart that shows through from all of the people and the processes that take place. It is a very pleasant company to work with. Life is short, work with the people you enjoy working with. For us at Inventiv, that includes Altoros.
I appreciate Altoros' pragmatic and straight-to-the-point approach.
So far, I'm pleased with the collaboration and results of the project thus far. Despite working remotely, communication between both team has been straightforward, clear, and frequent. The team also continues to leverage their knowledge, expertise, and creativity to deliver quality work.
Their project management was great, especially when compared to other vendors we have worked with.
By supporting us, Altoros drove development time down, allowing the project to launch on time. Their ingenuity allowed them to come up with cost-effective ways to develop the final product. They made an effort to learn about the our business goals to develop a solution that matches.
About Altoros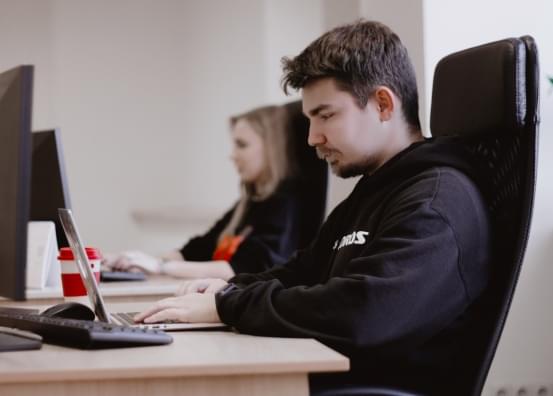 Partners
91.5%
Senior and Mid Developers
B2+
English Level of Our Engineers
About Altoros
Altoros is a professional software development company with headquarters in Pleasanton (USA), branch offices in Norway and Finland, and development centers in the USA, Canada, Argentina, Ireland, Poland, Moldova, Turkey, and Georgia. With 20-year IT experience and a strong team of full-stack software engineers and consultants, we help our clients to achieve unsurpassed quality at all stages of the web, mobile, and desktop application development. By providing multiple time-zone teams and different formats of working (onsite, remote, hybrid, etc.), we help organizations across the globe to gain sustainable competitive advantage through the adoption of innovative technologies.
Research & Development
The R&D department within Altoros keeps track of the latest technologies available on the market from 2011. The main goal of the department is to learn how projects can be developed faster, better, more effectively, and more efficiently. Our studies are mostly focused on big data solutions, data science, cloud computing, and cross-platform development.
Contact us now
To ensure your project is delivered on time

Steven Beaver
Software Architect
steven.b@altoroslabs.com
Copied
Copy to clipboard
Headquarters 4900 Hopyard Rd., Suite 100, Pleasanton, CA 94588, USA
Headquarters

4900 Hopyard Rd., Suite 100

Pleasanton, CA 94588

Altoros Finland OY

Kyllikinportti 2,

00240 Helsinki, Finland

Altoros Norge AS

Tordenskiolds gate 2, 0160 Oslo, Norway

Development Center, Poland

Młynarska st. 42 /115,

01-171 Warsaw

Development Center, Georgia

Merab Mamardashvili Street, N3,

Commercial Space N4, Tbilisi

Development Center, Turkey

Kısla mah. 37 Sk. Cengizhan Apt.

No:6/102 Muratpasa/Antalya

Development center, Argentina

Buenos Aires

Av. Federico Lacroze 2827,

C1426CPP CABA, Argentina

Santa Fe

25 de Mayo 2884, S3000FUA

Santa Fe, Argentina