The Challenges of Implementing Data-Driven Personalized Healthcare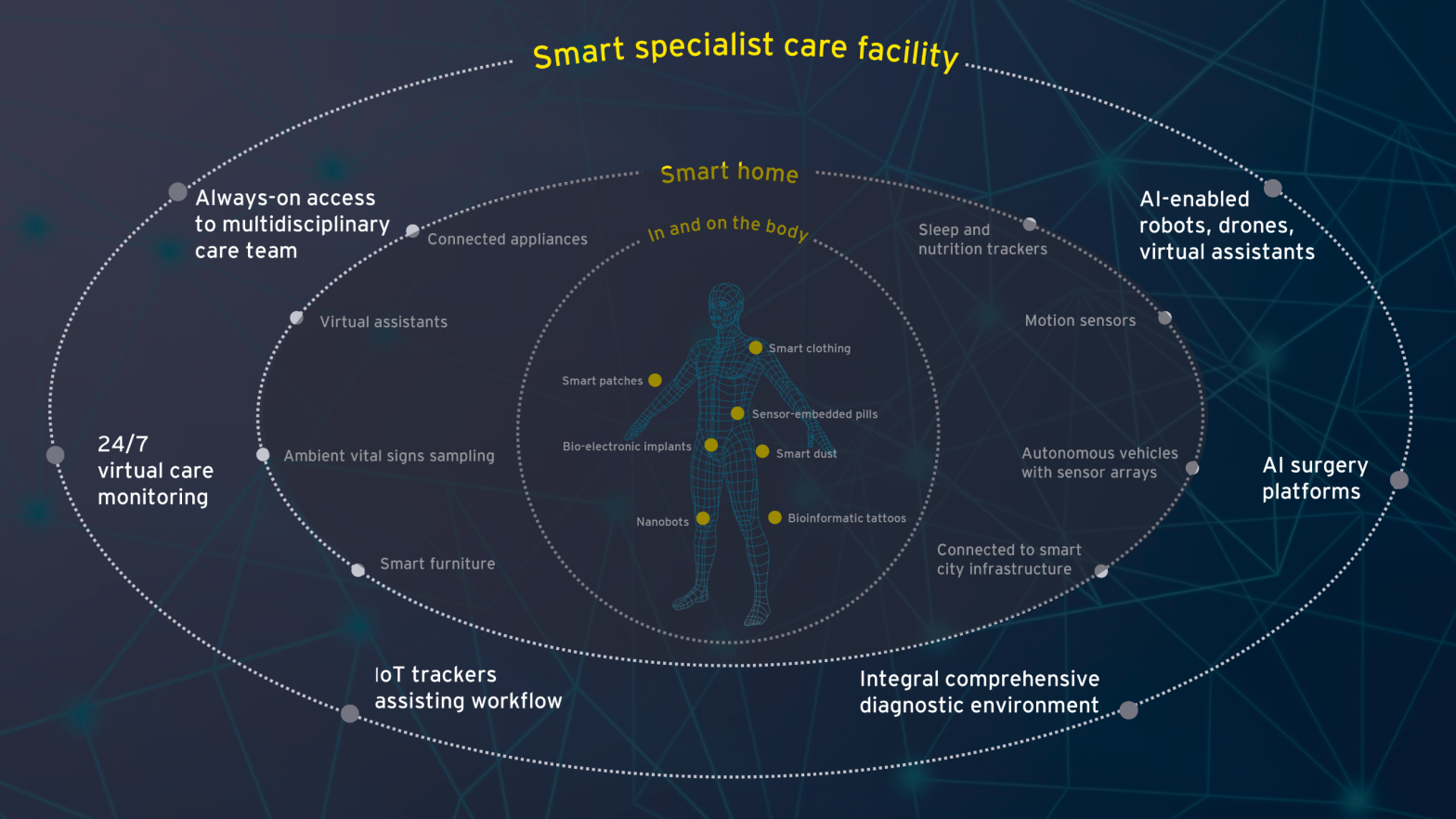 (Featured image credit: EY)
While innovation and EHRs enable more patient-centric care, ensuring interoperability and providing in-home care can be tricky.
The cost of an error in healthcare
The most recent findings by the AHRQ (December 2022) show that 7.4 million patients are misdiagnosed yearly in the US alone. As a result, 2.6 million suffer an adverse event, and around 370,000 patients experience serious damage rooting from a diagnostic error.
Furthermore, the WHO highlights that one death in every million worldwide is caused by medication errors. In the EU, this would translate to 163,000 deaths per year. The costs related to medication errors total up to €41.4 billion annually, excluding patients' lost wages and productivity.
The report by Philips echoes these findings, as the costs of hospital readmissions due to post-discharge oversight amount to $17 billion in the US alone. The paper highlights that 1 in 3 adults worldwide has multiple chronic conditions and 75% of US health consumers expect their care experience to be more personalized.
It's no surprise a survey by McKinsey discovered a growing dissatisfaction toward the inability of health/insurance providers to address individual conditions. Unplanned high-cost follow-up care increases the likelihood of changing a health insurance plan by 2.2x, the survey revealed.
While healthcare institutions are trying to solve the issues in a global turmoil happening since 2020, it's easier said than done. According to a report commissioned by the ECAMET Alliance (February 2022), 25% of hospitals are unable to estimate the number of medication errors registered annually. The stages where errors commonly occur include administrative routine (29%), electronic prescribing (21%), manual prescribing (17%), medicine dispensing (17%), and medicine preparation (16%).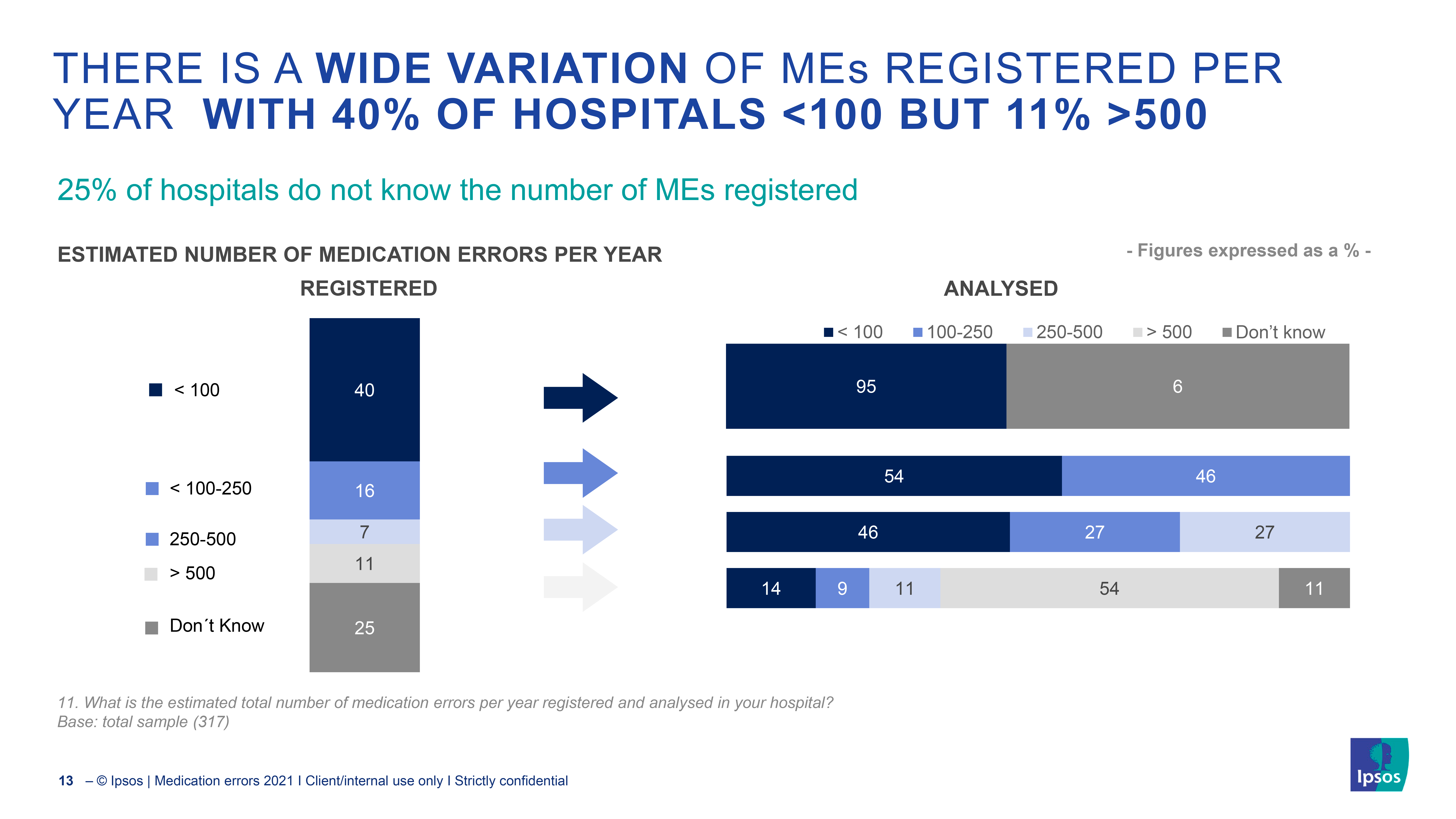 The rate of medication errors registered per year (source: ECAMET/Ipsos)
Aiming to provide customer-centric care, providers adopt various innovative technologies and concepts, such as telehealth, wearables, AI, remote patient monitoring, etc. With the growing amount of data in healthcare, EY notes that this presents an opportunity to improve outcomes across diagnosing, treatment, discharge planning, and follow-up care.
Turning clinical data into customized treatments, according to EY, may involve multiple phases. This pathway can start by assessing patient conditions with medical devices, and then this information can be combined with other historical data stored in EHRs. Combining this information, physicians can personalize treatment plans and then continuously optimize care, extending it beyond medical facilities to homes.
Reports by McKinsey and other analysts suggest a similar approach.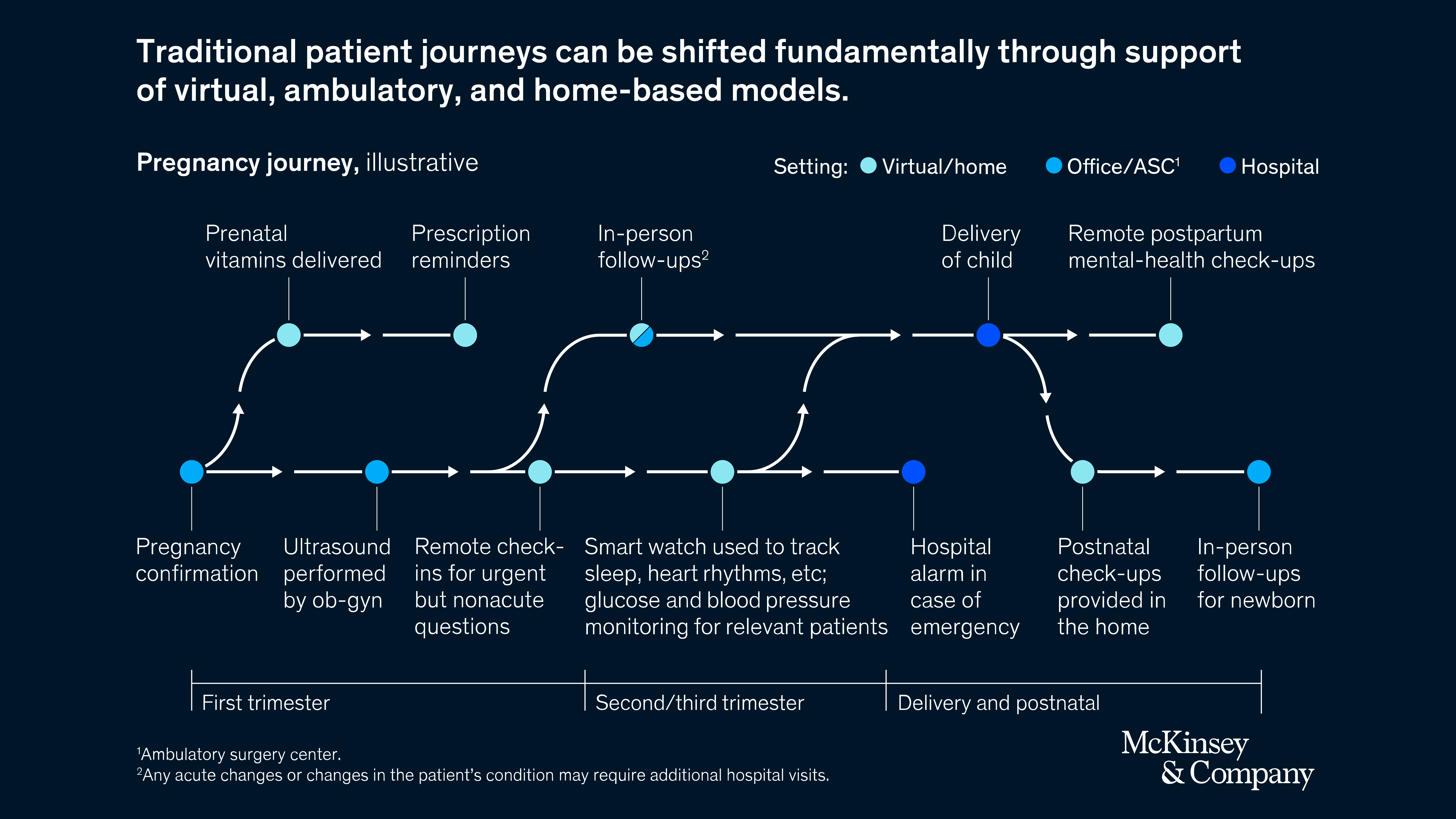 An example of how virtual and in-home care drive personalization (source: McKinsey)
This article reviews the details of personalized healthcare implementation and highlights the associated challenges.
A full view of a patient's medical history
Analyzing historical patient data is key to accurate diagnostics. This should involve the current and previous information about all diseases and conditions, invasive procedures and surgeries, allergies, genetic predispositions, wellness habits, etc. For this purpose, the role of electronic health records (EHRs) cannot be overestimated.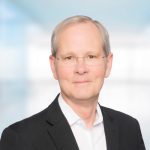 "The electronic health record must transition from an emphasis on a person's medical record to an emphasis on a person's plan for health." 
—John Glaser, Harvard Medical School
A recent report by Deloitte (October 2022) outlined the potential that EHRs have in granting patients more control over care and fostering a proactive approach to health. The study discovered that healthcare providers are willing to incorporate the latest technologies into EHR systems to ensure more precise diagnoses, automation, assistance, etc. It also revealed that EHRs and patient portals are still "not intuitive enough, and improvements are needed for both clinicians and consumers."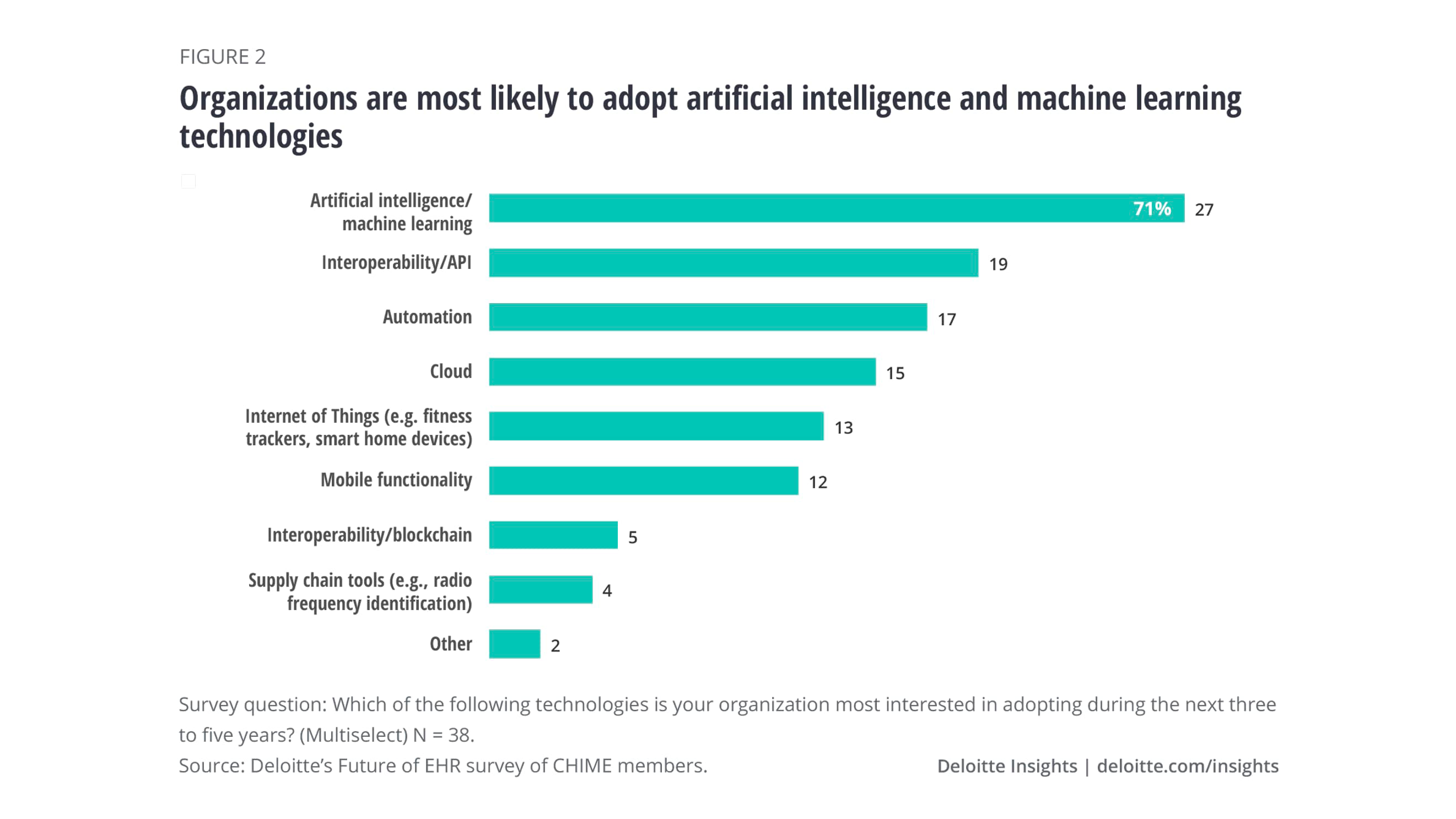 Most wanted technologies for enhancing EHR systems (source: Deloitte)
A 2021 report by Philips provided similar insights.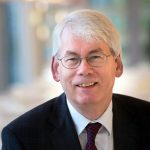 "Cloud-based digital platforms, IoT, and AI will ultimately enable an ecosystem of connected medical and personal care devices from multiple vendors, which can collect, analyze and exchange data to help consumers, patients, care providers, and payers make timely and better informed decisions."
—Henk van Houten, CTO, Philips
At the same time, both practitioners and patients want to include more types of data into EHRs (such as those from wearables and the Internet of Things devices).
Enabling post-acute and in-home care
According to the CDC, in the US alone, 60% of adults have a chronic disease, and 40% have two or more. Ongoing monitoring of related health parameters can help to timely respond to accidents, such as high blood pressure or abnormal glucose levels. Potentially, this can prevent events like a cardiac arrest.
That's one of the reasons why 47% of wearable owners willingly share their devices' data with healthcare providers (Deloitte, December 2022). This enables practitioners to further personalize treatment, enabling care beyond hospitals and medicine centers. (E.g., one of our customers developed an app sending oximeter/spirometer data to a doctor prior to an appointment to cut waiting time and promote a more personalized approach.)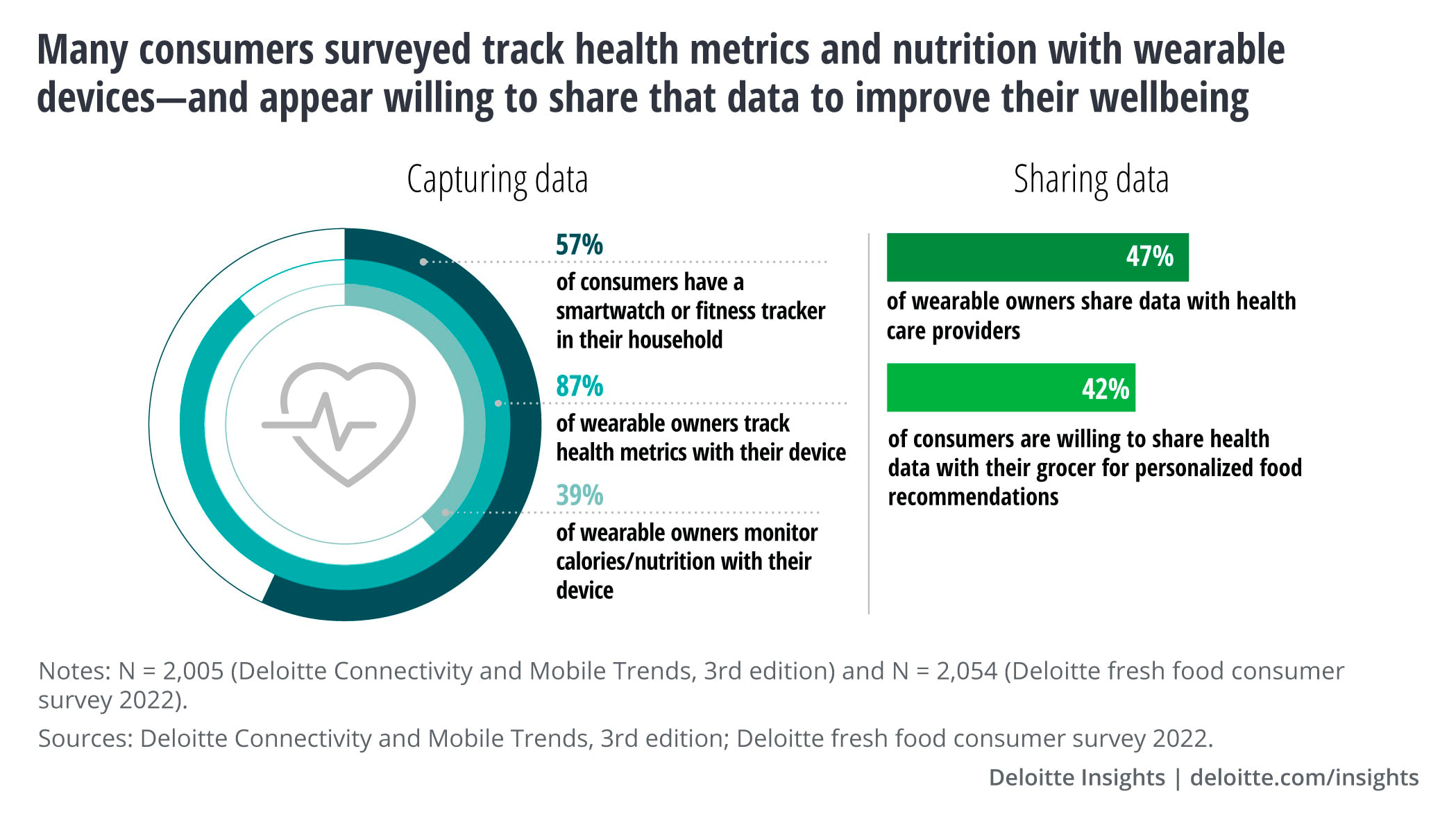 Consumers' attitude toward sharing health data (source: Deloitte)
McKinsey estimates that up to $265 billion worth of services (almost 25% of the total cost of care) for Medicare FFS and MA beneficiaries could shift from traditional facilities to the home by 2025.
In addition to telehealth consultations and remote patient monitoring, doctors and patients can utilize software for medication reminders, daily checkups, etc. Some of the applications and devices may have alerting functionality, ensuring emergency assistance in the most critical cases.
For instance, Polish startup SiDLY developed a smart wristband for seniors, which has sensors for constantly monitoring essential health parameters and fall detection. Having a SOS button, a GPS tracker, and functionality for voice communication, the device enables caregivers to timely handle emergencies beyond medical facilities. The rescue team of the telemonitoring center operating 24/7 has already helped to save more than 2,300 seniors in 2022 alone. The product has been adopted by local governments in several European countries, including implementations in the Adriatic–Ionian region.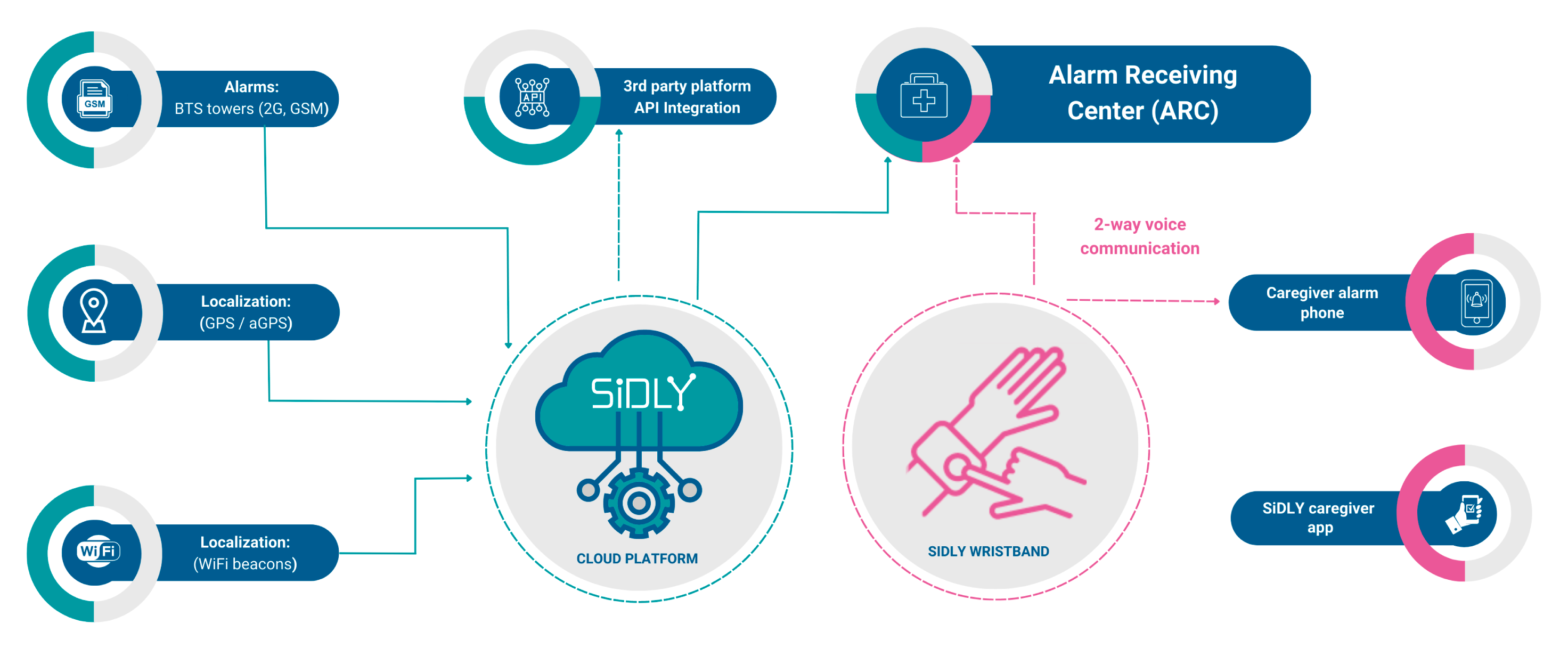 Emergency services integrated with wearable devices (source: SiDLY)
Interoperability and integration
The Office of the National Coordinator for Health IT (ONC) sees sharing patient information as a way to timely avoid medication errors and readmissions, reduce duplicate testing, etc. However, the study by Microsoft highlights that patient records are often distributed across legacy and fragmented systems that do not interact. 72% of healthcare executives consider it as a major barrier. A survey by Philips supports these findings, as 51% of healthcare leaders named data silos a real challenge, and 19% of the execs indicated the difficulties of obtaining information.
A study by ECAMET Alliance notes interoperability gaps across medical institutions—in ambulatory care, only 52% of EHRs are available to the patients. 25% of patients have only partial access to their records, and 24% have none.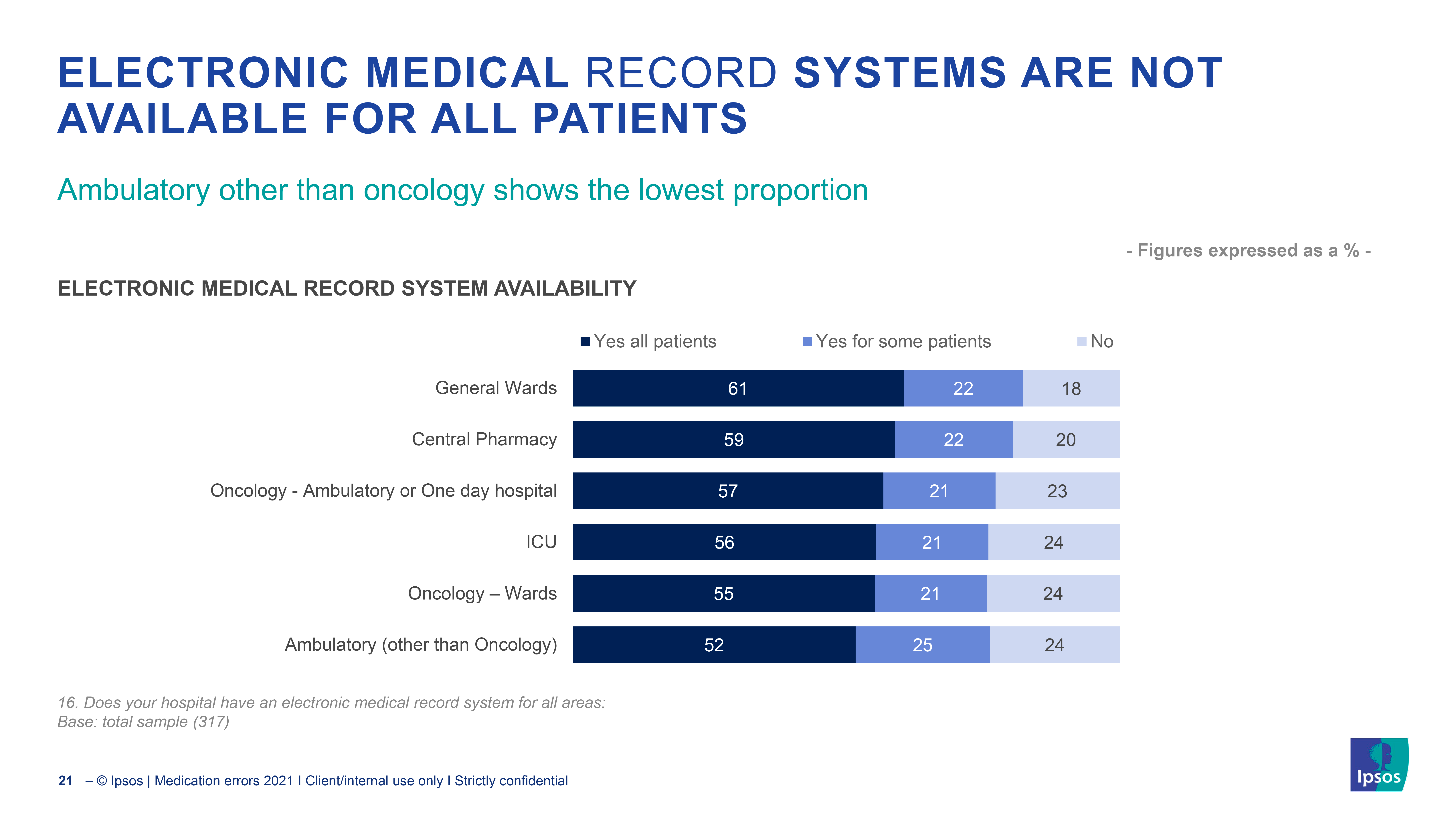 The access to EHRs is limited (source: ECAMET/Ipsos)
The scale of interoperability issues intensifies as EHRs need to be integrated into a bigger ecosystem of healthcare tooling. When it comes to medication history, only 55% of central pharmacies have their electronic prescribing systems integrated with EHRs.
Though access to data encapsulated in EHRs can be facilitated via APIs, a variety of regulations and policies should be considered, such as HIPAA, HITECH, etc. For instance, CMS outlines a number of APIs to implement, while ONC lists data privacy and security considerations in this regard. According to The Future Health Index 2022 report by Philips, 21% of leaders say that "data policy and/or regulations impede their ability to use data to its full potential."
Finally, forced to grant access for patients to individual EHR data, healthcare institutions will need to spend budgets on developing patient portals. This can be illustrated by the story of a patient who wanted to switch insurance providers to get a better care plan. What she found out was that the providers couldn't share her full medical record right away, because there was no system to do so. Instead, she was offered to pay $723.45 for 4,823 pages of her printed medical history. As a result, the solution she had to resort to were three DVDs and an external hard drive for reading the information from the computer.
Data reliability, vulnerabilities, and the human factor
According to Philips, only 69% of healthcare leaders are sure that the data they operate with is reliable and accurate. What are the reasons behind unreliable or inaccurate records when trying to enable a more personalized and a technology-driven approach? The list is by no means exhaustive:
EHRs may lack some of the health-critical information.
Patients may use wearable devices improperly or not on a regular basis.
Sensors may be broken, failing to collect or send the data.
AI algorithms used for diagnostics may have their own limitations.
At the same time, Bluetooth-enabled devices suffer from security vulnerabilities, which can be exploited by hackers to access key features. Taking into account that some devices may simply be noncompliant, all this introduces bottlenecks to reliability and availability of data.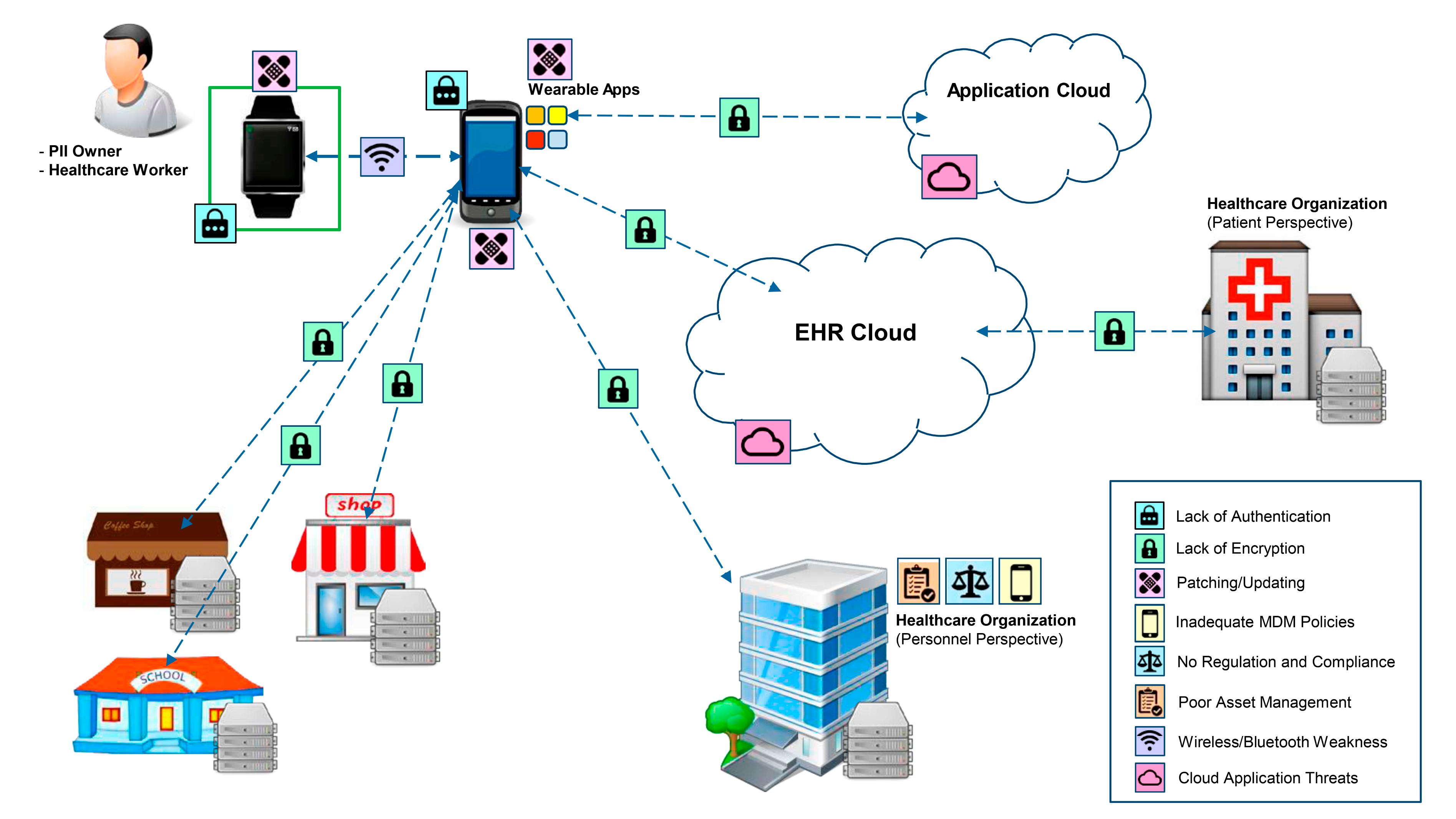 Key vulnerabilities across a wearable device data path (source: HHS)
On top of this, prescribed medication can include temperature-sensitive drugs. Failing to ensure proper storage at home or transportation conditions may result in medication not working at best or causing harm at worst. The same applies to laboratory samples (like blood) delivered from the home. Still, a healthcare provider not only needs to be sure that samples and medicine are OK, but also wants to have trust in data confirming this.
Besides, the issues related to implementation of personalized healthcare are not only on the technology side. In the US, 50% of patients do not follow their long-term medication plans for chronic conditions. Meanwhile, nonadherence leads to $500 billion in avoidable healthcare costs, almost 125,000 preventable deaths, and up to 25% of hospitalizations. This may create additional problems with in-home treatment, decreasing the value of a personalized health plan.
Increasing patient engagement
Studies demonstrate that personalized notifications via mobile apps foster adherence. For example, a patient's failure to refill a prescription may trigger a reminder to reach the closest pharmacy. At the same time, doctors could also receive notification in case a patient fails to follow the treatment or an emergency occurs.
In its turn, the need for tracking the temperature of medicine and samples used for in-home care can be addressed with IoT solutions. A US-based healthcare startup collaborated with us to deliver a blood-sampling kit to enable patients to collect materials for analysis at home. The system allowed for tracking the kit's status on its way from private locations to the clinic, ensuring the readings are within a specified temperature range. In addition, app notifications helped patients to take blood samples on a regular basis. To further increase the confidence in the data, a solution like that could be implemented on a blockchain, which has an immutable nature.
So, organizations willing to embrace personalization should be prepared to update their technology stack with innovative IoT solutions, data analytics, AI, telemedicine tools, and cloud systems. Adopting IoT devices may ensure remote and continuous visibility into the health status of patients, helping physicians to fine-tune therapies in real time. Analytics software can turn data from IoT sensors, EHR systems, or other sources into value, providing insights based on patient conditions and unique traits.
Customizing patient experience has proven to benefit both healthcare service providers and recipients. BCG reported that some organizations adopting healthcare personalization improved quality standards by 20–25%, while reducing administrative costs by 5–10% within 6–12 months.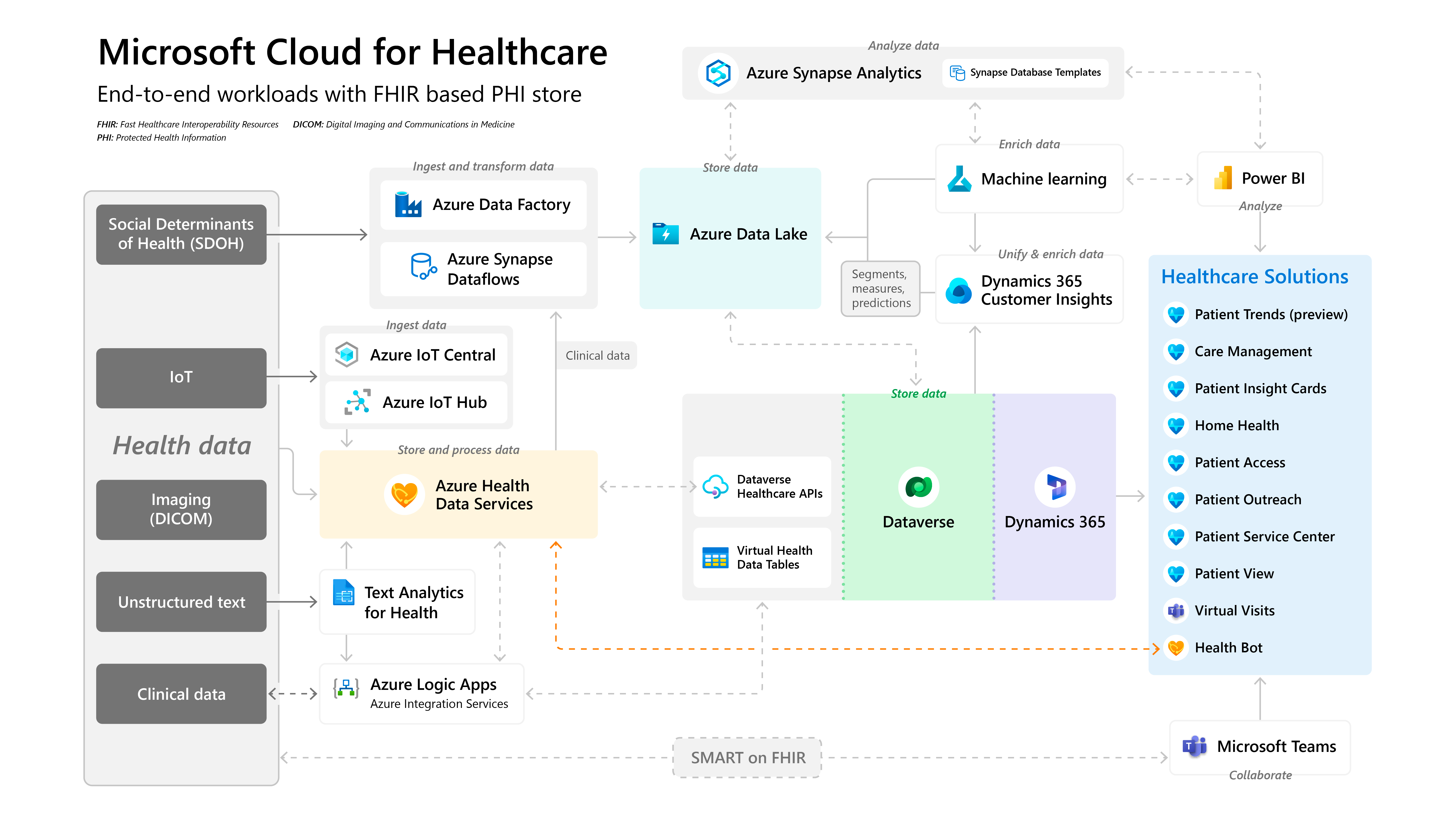 An example of a compliant healthcare data management architecture (source: Microsoft)
However, the growing reliance on data must come with proper measures to ensure that patient information is efficiently combined, shared, and protected. Compliant data management platforms—along with solid security efforts, patient engagement, and assistance from a trusted partner—will help to achieve this goal.
Frequently asked questions (FAQ)
How can nonoptimal treatment influence patients?

According to a December 2022 study by the Agency for Healthcare Research and Quality, 7.4 million patients are misdiagnosed in the US annually. This leads to adverse events for 2.6 million individuals and severe damage to ~370,000 patients.

On top of that, the WHO reports that medication errors cause one fatality per every million people worldwide. In the EU, this results in 163,000 deaths each year and costs up to €41.4 billion annually, which does not include the lost wages and productivity of patients. Philips confirms these figures, indicating that the hospital readmission expenses due to post-discharge oversight account for $17 billion in the US alone.

Why is interoperability important for patient-centric care?

The Office of the National Coordinator for Health IT (ONC) promotes exchanging patient information to achieve more accurate diagnoses, prevent medication errors and readmissions, eliminate redundant testing, and so on. Still, according to Microsoft, medical records are often stored in legacy or fragmented systems that do not interact with each other. As a result, 72% of healthcare leaders consider it as an obstacle in their practice.

A report by Philips confirms these insights, as 51% of executives surveyed called data silos a real challenge, and 19% of the leaders noted the complexities of acquiring information.

What are the common challenges of implementing personalized healthcare?

Interoperability is one of the main issues across medical institutions, according to a 2022 study by ECAMET Alliance. E.g., just 52% of EHRs are available to the patients in ambulatory care, while 25% of customers have partial access to their medical records, and 24% have none.

In its The Future Health Index 2022 report, Philips revealed that only 69% of healthcare execs are sure their data is reliable and accurate. Besides, 21% of leaders consider policies and regulations an obstacle to making the most out of data.

Healthcare institutions will need to spend some budgets on developing patient portals, integrations, data analysis, etc., as well as provide training to the personnel. Still, to achieve reliable outcomes, proper patient engagement, including adherence and sharing data from wearables, is also needed.
Further reading
---
The article is written by Alex Khizhniak, Sophia Turol, and Andrea Di Stefano.
Subscribe to new posts
Subscribe to our new posts to stay up to date with the latest research.
Contact us and get a quote within 24 hours