IoT Software Solutions Provider
The Internet of Things (IoT) has been around for over 20 years, but today it is revolutionizing many industries and turning analog products into digital ones. Whether you are building next-generation health or fitness applications or a home automation solution, our IoT development company will reduce time-to-market.
Get a consultation
Get software that delivers
Industrial IoT

IoT transforms factories into proactive organizations, enables them to connect formerly distinct production units, predict and fix potentially dangerous issues, as well as move to a product-as-a-service model. The maturity of IoT platforms, smart sensors, cheaper circuit boards, solutions for storing/processing big data, and high-speed networks bring bigger, yet cost-effective, opportunities to manufacturing than 20 years ago.

Automotive IoT

From smart device integration and data processing to client application development, we build IoT ecosystems featuring car diagnostics and predictive maintenance, location-based information support, and in-car infotainment.

Smart Home

The team at Altoros has hands-on experience in driving your home automation development projects. Our IoT engineers build smart applications that underlie your connected home solutions from smart locks to thermostats, temperature, humidity, and air conditioning control devices, as well as smart lighting systems. With our knowledge of face recognition technologies, connectivity protocols, machine learning algorithms, and voice control interfaces, you can entrust your smart home projects to us.
Healthcare IoT
We develop software for both personal and in-hospital use to collect and analyze data. Enhance user experience and optimize the workflow of healthcare facilities with the use of our IoT solutions.
See all the key services that we deliver here
Show me more
Services we provide
IoT hardware prototyping
Hardware modeling of IoT-based solutions with a robust tech stack architecture that is optimized for your business.
Cloud computing and IoT platform integration
A cloud-based system coupled with IoT sensor nodes allows for optimizing large data storages with minimum latency, while preventing data tampering at the network level.
Application development
The IoT technology is able to connect a considerable amount of devices, which leads to collective intelligence and the creation of smart environments.
IoT dashboards and analytics
With the help of IoT, users can remotely monitor assets and operational processes via a well-structured analytics system.
Edge computing
Storing valuable data in IoT-based edge devices can minimize data loss, making it resilient to distributed denial of services attacks and power outages.
Support and maintenance
Our support team evaluates your pain areas and their impact from technical, business, and customer perspectives, as well as ensures professional-grade consultancy services around IoT development.
Our development and integration processes look like a perfectly architected IoT ecosystem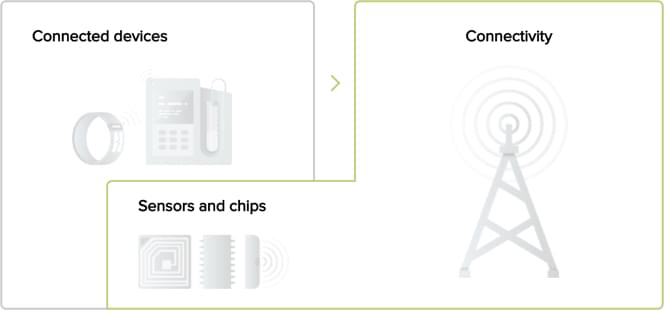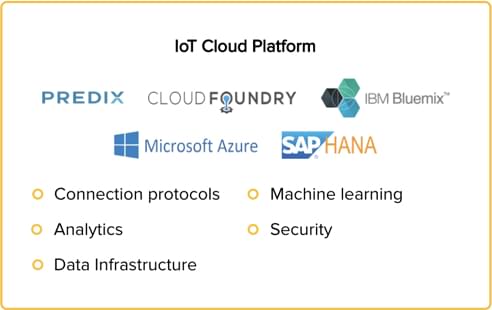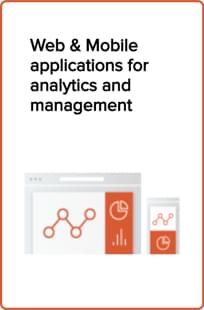 Share
your project requirements with us and we will deliver a prototype based on your needs
Request a PoC
Benefits we bring
Reduced operational costs
IoT is an amazing technology used worldwide, helping organizations in carrying out core functions, as well as improve their efficiency and optimize costs.
Increased sales
Sales play a key role in the profitability of any business. IoT opens the door for new business opportunities and helps companies to increase their sales operations supported by advanced models and services.
Efficient productivity
With the help of IoT-based applications, companies can easily boost productivity by calculating the most productive hours of their employees, so that important meetings and tasks can be scheduled during those hours.
Security
The IoT technology provides a high-end information security thanks to end-to-end security mechanisms: all connections are protected by Transport Layer Security, users are authenticated, all data is filtered using access-control lists, MQTT message authorization is applied based on topics, security audit logs are stored in a database management system with time stamps.
Optimized use of resources
IoT can help you to streamline the use of resources in your organization. This will help you to easily allocate assets and improve maintenance.
Real-time decision making
The biggest advantage of opting for IoT-based solutions is that it helps the organization and its employees to make faster and smarter business decisions, while reducing operational costs.
Our technology stack
Connectivity and messaging
Wi-Fi
Cellular (2G, 3G, 4G, LTE)
Bluetooth
BLE
Zigbee
NFC
RFID
Z-Wave
Serial
iBeacon
MQTT
CoAP
AMPQ
XMPP
ZeroMQ
Google Cloud
AWS IoT
Azure IoT Hub
Google Vision
MI Light
Cortana
Alexa Voice Service
Philips Hue
Nest
Apple HomeKit
Android Things
Analog
ADC
I2C
1-Wire
RF433
WiFi
BLE
Contact us and get a quote within 24 hours