Alternatives to Google Cloud IoT Core—Where to Migrate?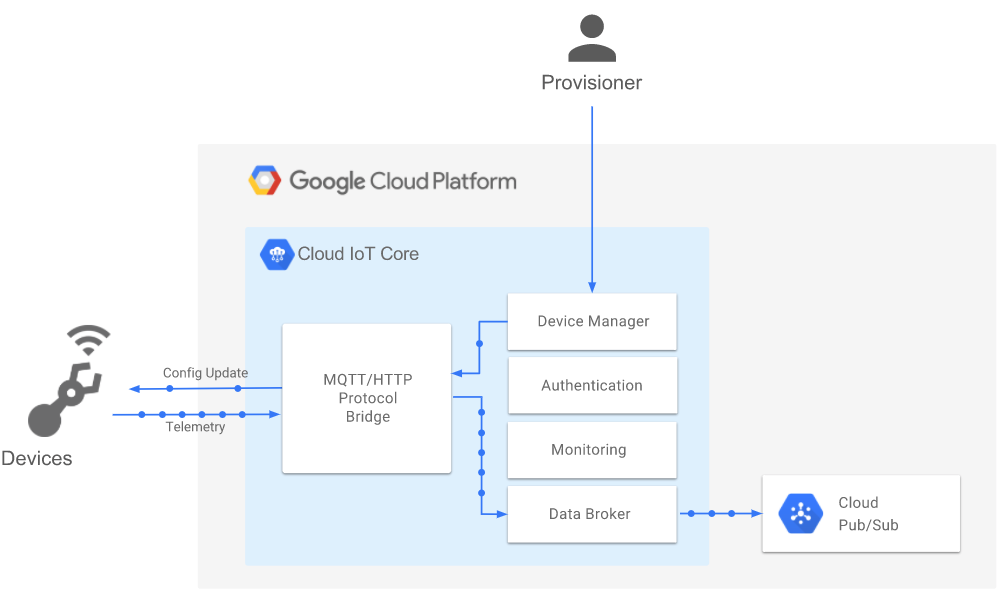 (Featured image credit)
Google will sunset its IoT Core on August 16, 2023. Some of the edge devices may become unavailable, experts say.
What happened and why the urgency
Last year, Google announced that it would retire the Cloud IoT Core service soon, giving customers one year to migrate. It was also noted that the documentation for the product will no longer be available after August 15, 2023.
Until now, Cloud IoT Core was used by customers for device authentication, communication with the edge, updating configuration, data ingestion, etc. The main components of the product include a device manager and two protocol bridges (MQTT and HTTP) for connecting to Google Cloud Platform (GCP). Telemetry data is forwarded to a Cloud Pub/Sub topic and can then be used for analysis with other GCP services.

A typical workload using IoT Core (image credit)
Since the announcement, companies have put their effort into migrating off the platform. Most likely, the majority of them have already either finalized the migration or at least are in the process. Last month, a Reddit user posted a message mentioning 10,000 devices under high load that are still in ongoing migration due to complexity.
So, if you had reasons to avoid moving the IoT workloads until now or your migration failed and you are looking for a better technology option, read on.
Note: Google is not alone in deprecating IoT services. Earlier, IBM decided to discontinue the Watson IoT platform, while SAP has recently shut down its suite previously known as Leonardo.
What's the plan?
After the anxiety the news from Google brought in last year, there were a lot of articles for CTOs, architects, and IoT engineers about possible further steps. While a lot of overviews suggested migrating the system to Azure, AWS, or another cloud platform (sometimes, completely), in reality many other options do exist.
Here's why. Within particular deployments, the main functions of Cloud IoT Core are device management, data ingestion, and messaging. Depending on what of these you are using, in its documentation, Google recommends different migration options.
In brief (very simplified):
If you rely on IoT Core for device management and data ingestion, you may need additional tools for these scenarios now (or a single platform combining the both requirements).
For device communication, you can go with an MQTT broker.
The document notes that the hardest job will be to migrate the processing of devices that both produce and consume data for / from back-end workloads.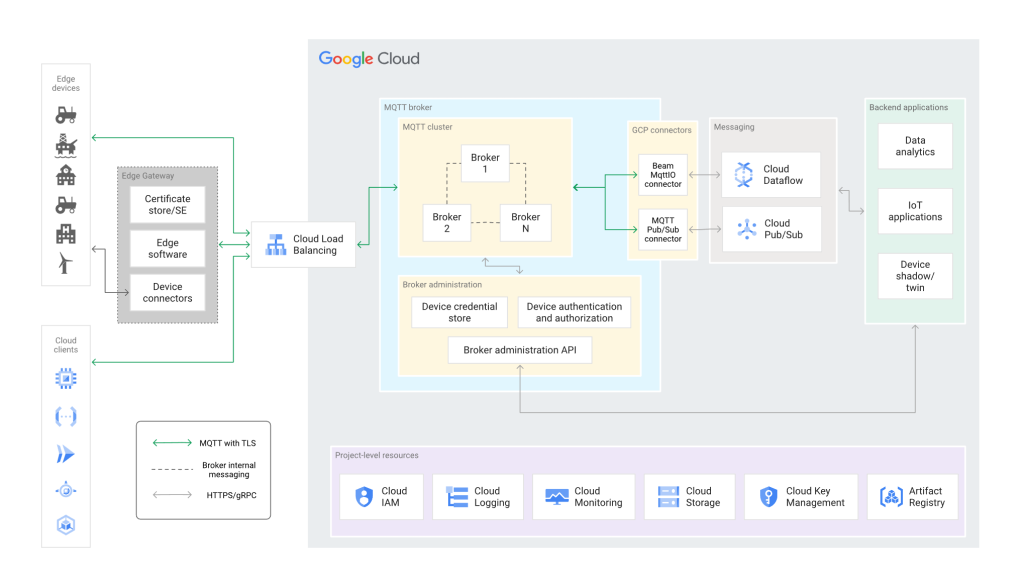 A standalone MQTT broker on GCP (image credit)
In addition, updates on the devices may also be needed on the edge. If not done before August 2023 over the air, this may require updating devices in the field, manually. If not updated, you may "consider them lost," experts from Leverege write in their IoT Core migration guide.
Major alternative options and scenarios
So, when it comes to exact products and implementations, there are at least four possible groups of options for replacing IoT Core.
Hurry up, but do it wisely
There's certain time pressure for this migration initiative, however it makes sense to take the most out of this unexpected situation.
First, there are chances that the requirements for the existing deployment have already evolved since the time your MVP/pilot started using Google Cloud IoT Core. Second, when choosing among IoT platforms or messaging brokers, you have both proprietary and open-source options. This means the variety of tools can help you adjust your architecture to your current needs and budgets. Especially in case they were affected by the ongoing crisis.
The choice of the technology depends on your implementation, but it is also a chance to review the environment architecture and optimize accordingly.
If you're still coping with the migration (due to the size, complexity, or failures) or expect that some of the edge devices will be "bricked" after IoT Core's EOL, I'd be glad to learn about your experience here, here, or in the comments below. I'm ready to add your story to this article.
Further reading
Subscribe to new posts
Subscribe to our new posts to stay up to date with the latest research.
Contact us and get a quote within 24 hours