What Can We Learn from Stanford Hospital's Use of IoT and Data?
(Featured image credit)
By investing $2B in innovations, the medical institution is creating a smart hospital—still, facing technological issues on this journey.
The need to improve healthcare facilities
Stanford Hospital is a hundred-year, world-renowned medical institution located in California. The hospital is part of the Stanford University Medical Center and has a long history of providing patient care and conducting research. During a recent decade, the organization underwent a $2.1 billion project to update its facilities and enhance patient care.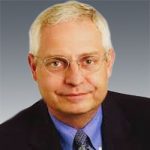 The decision to modernize the hospital was driven by several factors, according to George Tingwald, Director of Medical Planning at Stanford Health Care. "The beginnings of the new hospital are rooted in the requirements from the state of California to upgrade buildings seismically," noted George in a podcast. In addition, the hospital needed to expand its facilities to accommodate the growing population of patients in the region.
However, the hospital also recognized that advances in technology presented an opportunity to make healthcare more efficient. By modernizing its facilities and introducing new technologies, the hospital aimed to provide patients with a more personalized and holistic care experience.
Opened right before the COVID-19 pandemic, the innovations helped the hospital to be better prepared for disruptions—e.g., by increasing the use of virtual care. At the same time, becoming a technology-driven organization brings in new challenges, as well.
Integrated digital systems
To accelerate care, Stanford Hospital has been implementing IT advancements for years, combining clinical practices, research, and education.
Today, an electronic health record (EHR) system is a key component of the hospital's digital ecosystem. Supplied by Epic, Stanford's EHR platform enables doctors to access patient medical history in real time, enabling better-informed decisions. Additionally, patient records are updated automatically after each medical activity, removing the burden of manually entering information.
The EHR system was also designed to facilitate communication between healthcare providers, reducing the likelihood of errors, and ensuring that patients receive timely and appropriate care.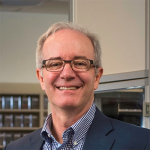 "Our care team members check in and check out for their shifts in our electronic health record system. So, we actually know who's taking care of patients at any given moment in time. What we're doing is exposing this to the patient, demystifying the experience for patients who may wonder who they're talking to or who is taking care of them."
—Gary Fritz, Stanford Health Care
Christian Lindmark, VP/CTO at Stanford Health Care, notes that the EHR system is integrated with the infusion pumps in patient's rooms. The system is programmed to send a medication order to the infusion pump. In response, the infusion pump sends information such as the start and stop time back to the EHR to document the process. This effectively reduces the risk of medication errors, improves the administration of medication, and decreases inconsistencies in nursing documentation.
Most of the EHR information is stored in the vendor's core NoSQL database called Chronicles. From there, the records are sent to an Oracle-based relational database (Clarity) used for advanced reporting. The hospital takes the information from Oracle and transforms it to an operational enterprise data warehouse (Caboodle) having various subject marts. The purpose of this data flow is to provide clinicians with access to patient information while allowing researchers to use EHR for research purposes.
To help patients access their healthcare information and engage with medical staff, Stanford Health Care delivered the MyHealth app. The mobile app was released in February 2015 and had over 600,000 users as of 2019. The tool enabled visitors to access EHR data, track health status, message a primary physician, schedule appointments, etc.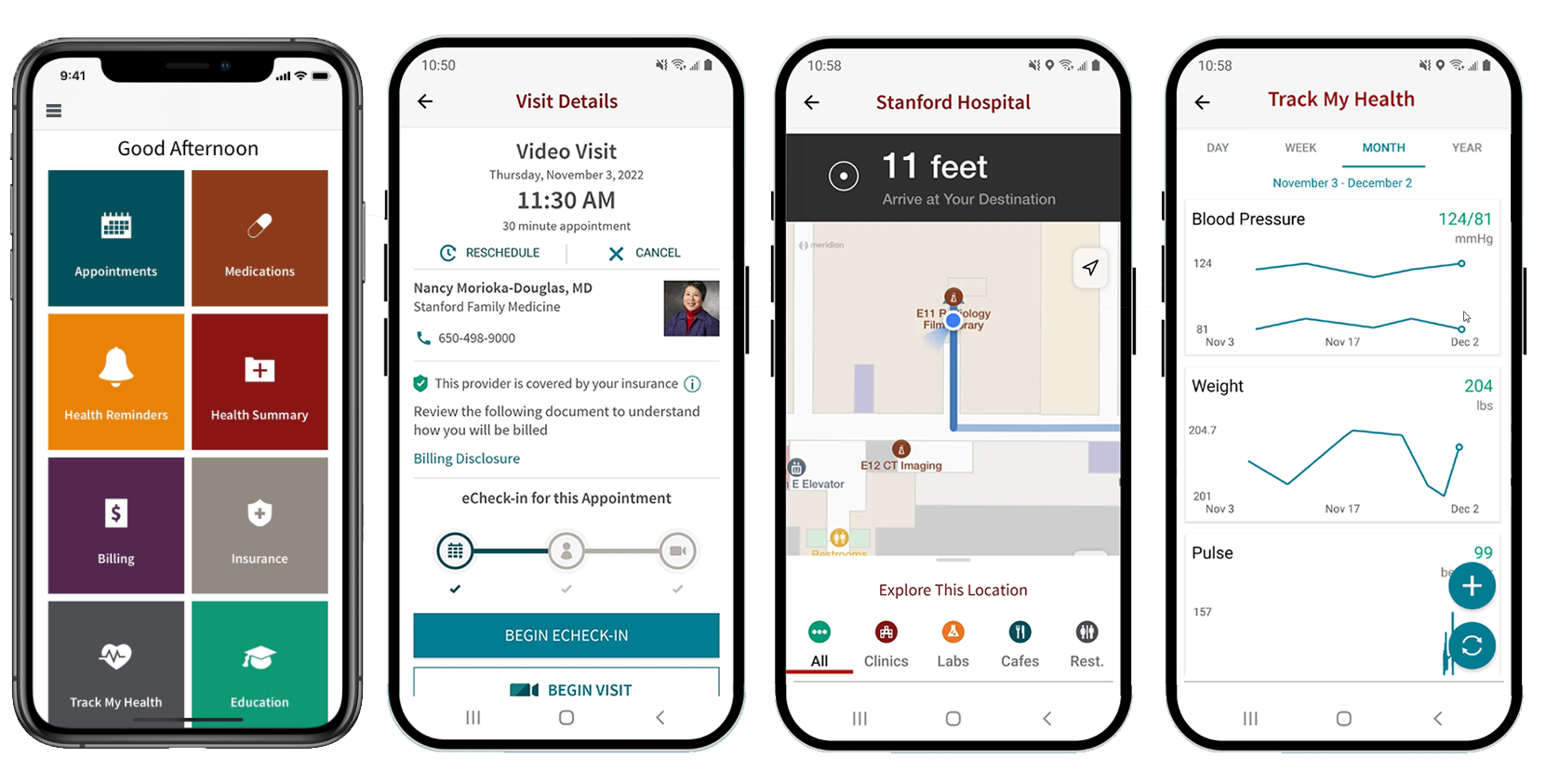 The MyHealth app in action (image credit)
Patients can fill out all their information on the MyHealth app in advance at home, allowing them to skip the line at the front desk. The app also has the eArrival feature, which helps patients to check in automatically and lets staff know as soon as the patient enters the clinic. While inside Stanford Health Care, patients can then navigate the hospital with the GPS functionality of MyHealth (more on the app).
(Read how a Norway-based healthcare institution automated appointment scheduling by developing a similar app for doctors and patients.)
After visiting the hospital, patients get in-app notifications when their test results are ready, providing access to laboratory data. Additionally, the tool provides patients with a list of medications prescribed by a physician.
MyHealth enables patients to view their allergy and immunization records, which can be updated through the app. Additionally, the app can send alerts to patients to remind them of upcoming immunizations that they may need based on their age and medical history.
When a patient is hospitalized, their loved ones can check on his/her status through the app. Additionally, they can also be notified of transportation needs when the patient is about to be discharged.
The Internet of Things and smart rooms
The hospital uses sensors and devices across its facilities to collect data and provide insights for improving patient outcomes. The telemetry systems are capable of capturing data from various patient-linked devices, such as heart-rate monitors, oxygen saturation monitors, and infusion pumps. This way, IoT tools monitor patient health in real time and predict when a patient may be at risk of developing a complication.
"This is an IoT hospital of the first order." —Gary Fritz, Stanford Health Care
The hospital also has IoT devices that can track the location of equipment and supplies. Specifically, the new Stanford Hospital utilizes Midmark's real-time location system (RTLS), which uses wireless signals to determine the location of objects. Multiple anchors placed throughout the hospital then receive signals from other anchors and the RTLS tags. Using the signals, the anchors can then triangulate the location of the tags. To date, the hospital has over 2,200 RTLS sensors, 1,500 Wi-Fi access points, and 12,000 biomedical devices.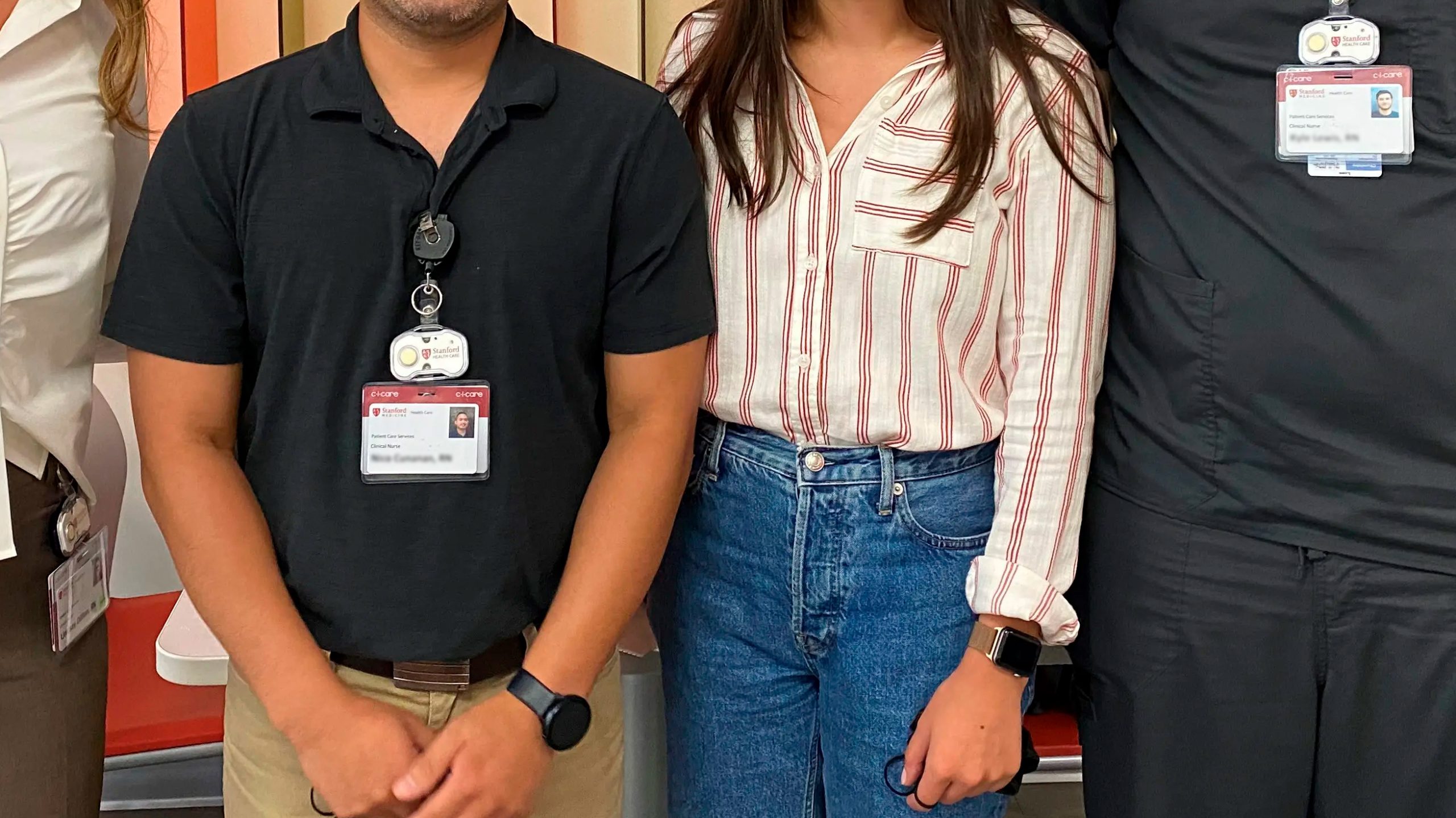 RTLS-based badges worn by Stanford Hospital nurses (image credit)
RTLS is also used in nurses' badges for the analysis of operational efficiency, staff movement patterns, prediction of clinical workflows, etc. This way, the hospital can track the average time spent with patients, as well as evaluate, for instance, the influence of the pandemic restrictions on operations. In addition, the badges have a button enabling nurses and physicians to discreetly call security if they are threatened by a patient.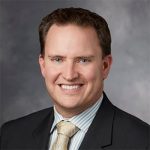 "Our new nursing units are much larger and this mobile technology allows caregivers to be more efficient and saves them thousands of steps each day. Bar code medication administration can also be completed using the camera on the iPhone, which eliminates some of the clunkier technologies previously used."
—Christian Lindmark, Stanford Health Care
Besides RTLS, the new hospital integrated a radio frequency identification (RFID) system to monitor supplies. RFID readers are installed on supply bins on the hospital floor and in operating rooms. The data gathered by the system is used for inventory demand planning, forecasting, and reporting. The bins automatically generate an order to restock once they reach half capacity, so nurses only need to spend time on quality control. Additionally, RFID readers in operating rooms allow nurses to charge drugs to a patient account without the need to manually transcribe inventory numbers.
Another significant technological advancement introduced during the modernization of Stanford Hospital were smart rooms. They were redesigned to become more patient-centric, featuring automated lighting, temperature control, and entertainment systems, all of which could be controlled from the bedside. Patients in the smart rooms can order food and even schedule visits from a therapy dog. The innovation was introduced to not only improve patient comfort and satisfaction but also reduce the workload of nursing staff.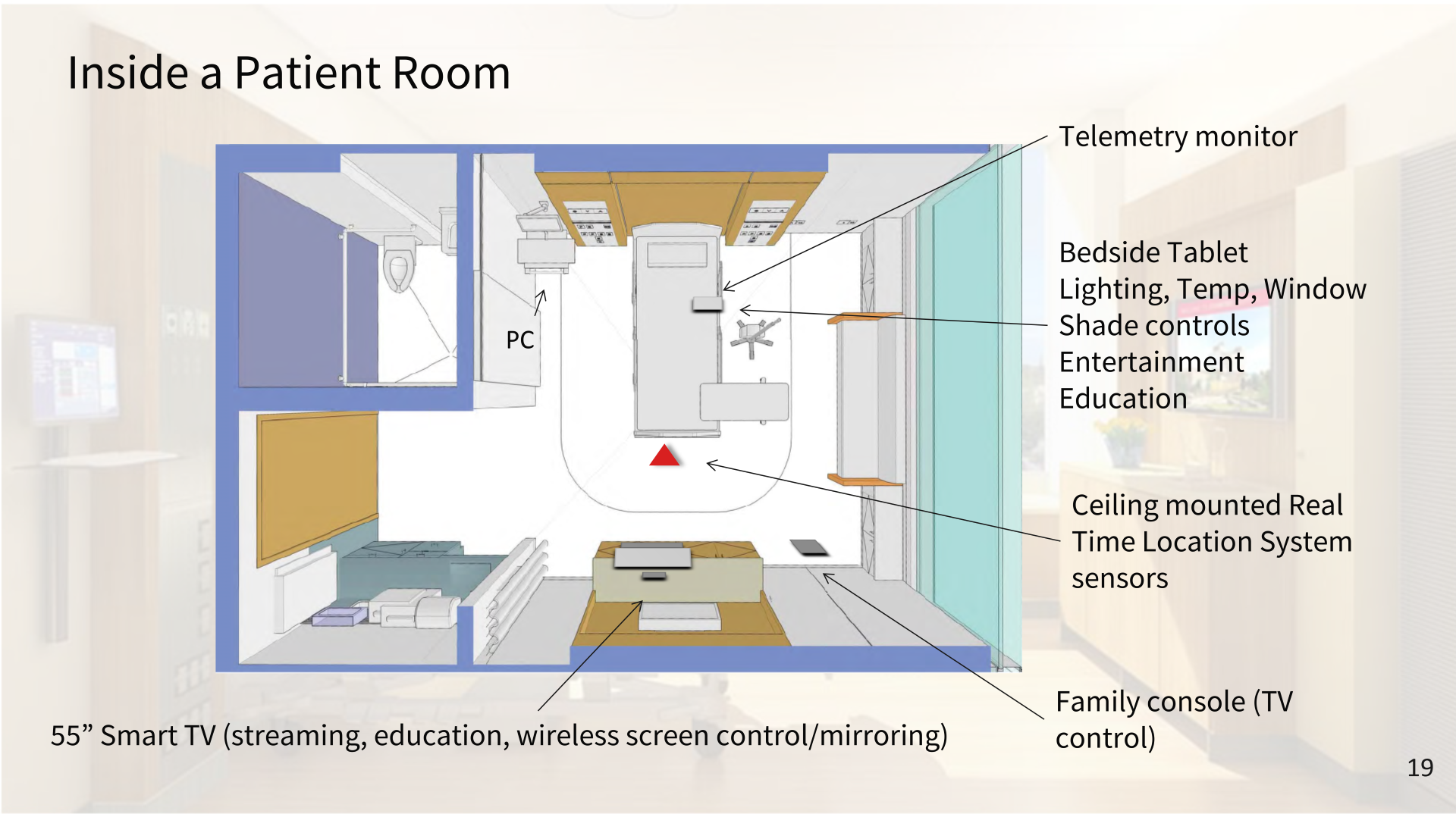 Patients can adjust lighting and temperature with voice commands (image credit)
Robot-assisted automation
Since 2019, the new Stanford Hospital has been using robots for a variety of tasks, including surgery. For instance, the TUG robots are used for the automated delivery of supplies—such as linens, medications, and lab specimens. They navigate the hospital by using sensors and GPS and can avoid obstacles and people, being able to open doors wirelessly.
Made by Swisslog Healthcare, three other robots occupy the hospital's pharmacy. Two BoxPickers® act as automated storage for various medications, monitoring inventory in real time and automatically generating orders for daily restocks. The third robot, PillPick™, packages medications for patients into vacuum-sealed containers. PillPick gives out 1,000 doses per hour, which is about the same amount a pharmacist can manually pack in 5 hours.
TUG robots can carry over half a ton of supplies (image credit)
According to Gary Fritz, Chief of Applications at Stanford Health Care, the new technologies are all interconnected and designed to support both patients and hospital staff.
"What we've been doing is taking the best of Silicon Valley and incorporating it into our hospital." —Gary Fritz
The challenges during modernization
The modernization of Stanford Hospital was a massive undertaking that required significant planning, resources, and execution. However, several challenges emerged during the improvement process.
One of the significant issues faced by the hospital was the need to ensure that the facility was in compliance with policies and standards. During a presentation, Christian Lindmark explained that the hospital also had to comply with privacy regulations, including HIPAA, by ensuring that EHRs and other patient information were secured.
"We have a private network within the hospital. Anything that can reside on our wired network, per regulations, can also be on our private Wi-Fi network, as well. We have numerous security protocols in place to ensure that only devices we know connect to that network within our hospital. We also have a list of all the devices that we know that can connect to our network. If there was a rogue device that tried to connect, it can only access the public network and get guest Wi-Fi, but it cannot connect to our secure network."
—Christian Lindmark, Stanford Health Care
Another challenge faced by the hospital was the need to upgrade its technology systems while minimizing the disruption to its operations. This included upgrading EHR, enterprise imaging, laboratory, and patient monitoring systems, as well as implementing a new secure messaging/alert/alarm system. According to Christian, most of the 180 applications used in the hospital now had to go through a complete architecture review. This ensured that the apps are scaled appropriately to meet the increased demands of the new hospital for bandwidth, real-time data, etc. To prepare the infrastructure for innovations, Stanford Hospital laid 21 miles of fiber optic cables throughout the facility. To minimize disruption, the hospital developed a detailed plan for the implementation of new technologies that involved extensive testing, training, and support.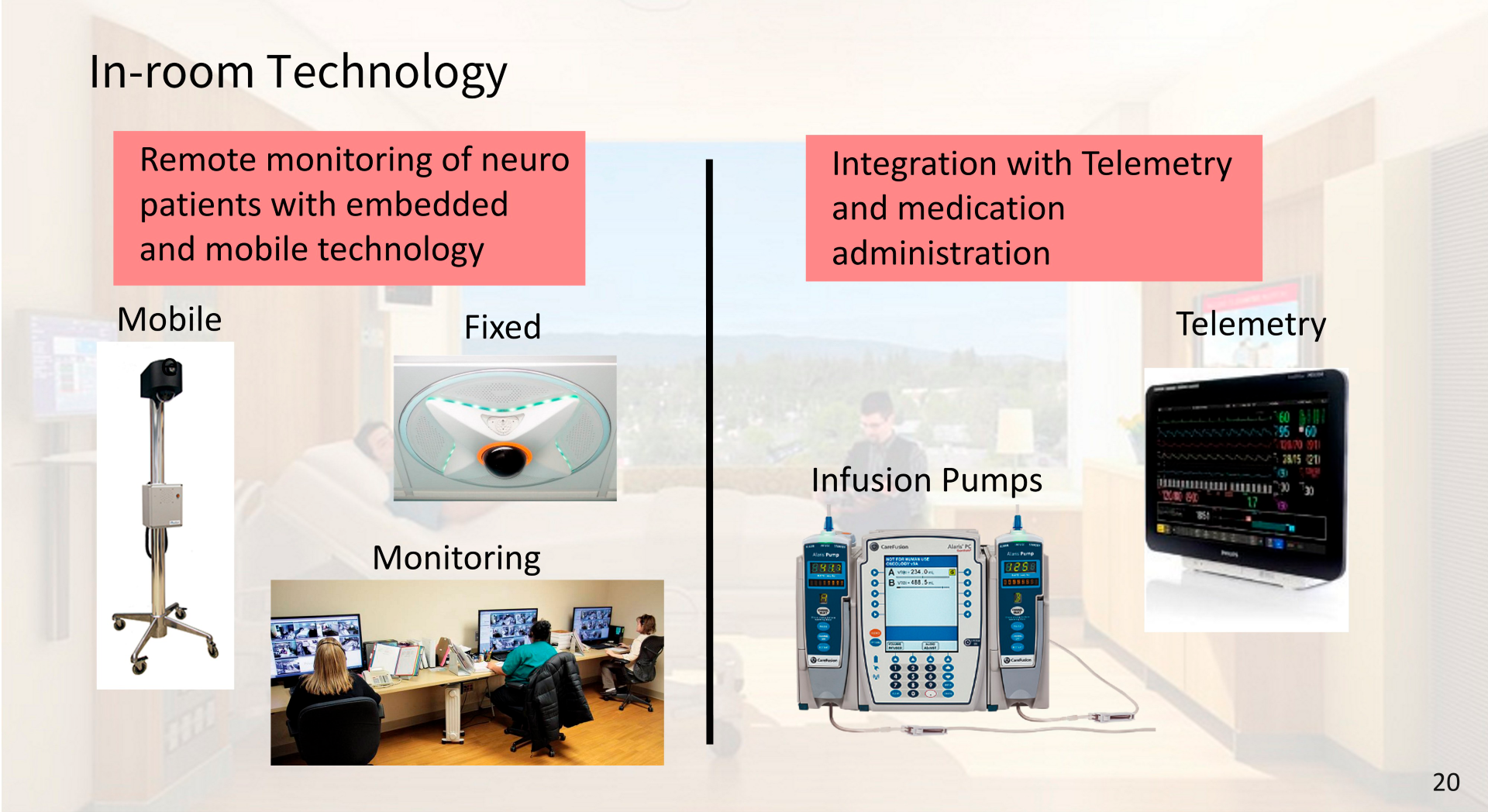 Remote monitoring with IoT devices (image credit)
The implementation of robotics reduced the overall workload of staff within the hospital, but it also created additional challenges. For instance, while the PillPick robot significantly speeds up the process of packing medication, pharmacists still have to check each package. Though the robot knows clearly which medication to pack, there are instances when pills get stuck together or are broken into pieces. The maintenance of the robots also added another challenge. Select members of the staff needed to undergo technical training in order to be able to troubleshoot problems.
The increasing adoption of robots, sensors, devices, and other digital technologies creates new points of vulnerability. For example, hackers could potentially gain access to sensitive patient information or even control the robots to cause harm to patients or staff. Five bugs discovered in the TUG robots' firmware in April 2022 could allow criminals to access medical records, camera feeds, and devices, as well as lock down elevators and doors. Attackers could also hijack admin sessions in the robots' online portal and inject malware. Though the vulnerabilities were patched in time, risks like that occur on a regular basis.
A DDoS attack on Stanford Health Care and 16 other hospitals in January 2023 caused a disruption to their public services, providing another example of a possible threat. With the amount of sensitive data at stake and the number of devices, medical institutions must implement strong security measures and protocols.
The results
The modernization of Stanford Hospital has brought about significant benefits to the hospital, its staff, and patients. In November 2020, the hospital received the Gartner Healthcare and Life Sciences Eye on Innovation Award, recognizing the work done. According to a press release by Gartner, the modernization has resulted in an estimated $2 million in cost savings due to the automation of routine tasks and elimination of duplicate documentation. The care team response time has been reduced by 6x—from 12 to 2 minutes.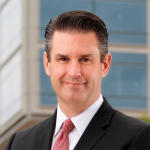 "Technology has allowed us to be able to meet demand in a new way. It allowed us to see more patients and to see them more frequently."
 —David Entwistle, Stanford Health Care
Patients can now access a wide range of medical services under one roof, including diagnostic services, surgical procedures, and specialty care. The hospital's modern equipment and technology have also improved patient outcomes, with reduced complications, infections, and readmissions. Besides, patients can now access their medical records and test results online through the MyHealth app, making it easier to engage with caregivers.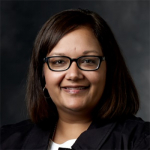 "Family members may be in a chair right next to the patient, or they may be 3,000 miles away. A daughter who lives in Washington, DC, can keep tabs on what's happening with a parent who may be hospitalized."
—Alpa Vyas, Stanford Health Care
Stanford Health Care's telemedicine initiative was largely successful during 2020, the height of the pandemic. 360,000 video visits were conducted, with 87% of cases resolved without additional follow-up. In 2021, the number of video appointments stabilized at around 60,000 per month, representing 30–40% of ambulatory visits across over 35 states.
"At Stanford Health Care, having telehealth fully integrated in our EHR workflows and accessible via our digital platform from anywhere on any device has not only increased access to care for patients and their families but has also eased care-team coordination. We saw continued incorporation of AI/ML capabilities across the ecosystem for enterprise productivity, diagnostics and treatments, and are excited to develop this further at Stanford in 2023."
—Michael Pfeffer, CIO, Stanford Health Care
The modernization of the hospital has brought about increased efficiency in hospital operations. The introduction of new technologies, such as the Internet of Things, resulted in reduced waiting times, faster diagnoses, and quicker treatment times. The innovations have also improved employee productivity and reduced the administrative burden, allowing staff to focus on patient care. The $2.1 billion project has also improved patient outcomes with reduced mortality rates, shorter hospital stays, and fewer readmissions.
Further reading
---
The article is written by Carlo Gutierrez, Alex Khizhniak, and Yaroslav Goortovoi.
Subscribe to new posts
Subscribe to our new posts to stay up to date with the latest research.
Contact us and get a quote within 24 hours